I expect this will be a bumper post because a lot has happened since last week! I was worried about actualising my idea but that has since subsided and I've made a strong plan for the piece I'm going to write so I'm a lot happier about that. Since I've been in the flat for a while, Shebika and I have been chatting a lot and shes a real joy to have around. She told me about her life and she pestered me to show her pictures of my family and my life but after that I felt good about it and she said my mum was pretty and glamourous so there you go Christine! They can't take that away from you.

I met with Sadaf on Saturday and she really opened my eyes to ethical factories and the differences in the industry and the general history that brought about the influx of garment factories in Dhaka. I needed that perspective so I'm glad I found it this early into the trip. Later that evening I went to a lecture by David Hulme from the University of Manchester Global Development Institute on climate change in Dhaka and again, this was an interesting perspective that brought Dhaka and Bangladesh out of the Western single narrative of "Bangladesh is a developing country" and that was refreshing. After we had a meal and I opened it with a song and Majeda sitting opposite me sang Auld Lang Syne in Bengali, as translated by Tagore. So that was really cool for me. Majeda also gave me a lot of contacts so I'll be calling a lot of bemused Bengalis later.

Now we're up to my favourite day so far. Yesterday I met Shamim and we went to Sonargaon, the medieval capital of Bangladesh, to visit the Jamdani weavers. On the way we got a roadside tea which is very sweet and I, of course, got stared at by a gathering crowd of about 30 people. After this we headed into the village on foot. Firstly we met some women who were preparing the warp on the reed, they said one reed took and hour to set up. That is madness. Lightening fast madness. Then she ushered us over to a bamboo contraption that she was setting up to thread the healds. There was a little boy who was hugging a big pink teddy bear that was looking at me like I had 3 heads. Quite enjoyed that. Then we met a master weaver who took us to see the ladies spinning the thread onto the bobbins and letting it dry out. This is when it hit me that the silence was deafening. The ladies used a ceramic fragment to keep the spindles twirling whilst they would the thread onto the bobbin. All you could hear was the creak of the bamboo. Eerie but visually engaging. If you ever feel stressed, you need to come here. So relaxing. After this we headed on down to the weaving sheds where the magic happened. Shamim had commissioned this weaver to create this show-off Jamdani piece for an exhibition and it was glorious.

The looms cost around 900 tk and a piece of Jamdani sells for 15,000 tk plus. The most expensive Jamdani in the Aarong was 350,000 tk. Should put that on me Amazon Wishlist really. I've included a lot of pictures here to show you what it was like, its hard to explain. I also put a load of pictures on my Instagram (

www.Instagram.com/JenniferBallads

) if you want to check those out.
Powered by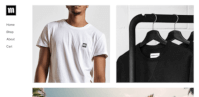 Create your own unique website with customizable templates.